On Independence Day in special light of the struggles which we
as people and we as a nation have faced since the last
time this day was celebrated......I feel compelled to share with
all of you a memory from that last one. It has a dearness with my
heart especially as the birthday of our freedom is upon us again.

It is the tradition of my family and I to attend an area celebration on this holiday...and last year we were there again. We always have a nice time,
eating the hot dogs, visiting the area people, listening to the music and
watching the fireworks. But with the combinations of illnesses and disabilites
present within my family, on any day there can be challenges, obstacles and
limits placed upon the enjoyment which should override on any such occasion.........Last year's Independence Day was no different.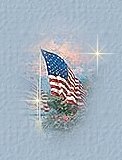 Perhaps this will bring a smile to some of your faces as you relate to some of
your own struggles of keeping all members of the family happy...especially on
these "happy" holidays. Steve went to the car, tired, depressed and hopeless
at 8pm, Teresa wanted to stay for the fireworks. Typical. Ok. One more time,
what should I do? Teresa began to get down as she said, "Mom.......why
can't Dad ever........?
The truth was, I didn't know. What to do, or what to say to my daughter
. But I told her we'd go down to the field and stay for the fireworks. I found
myself inwardly laughing. Lawn chair, purse, cooler, my crutch, Teresa's
snacks that she had gotten. All this to carry on down there with only
Teresa's help. My cerebral palsy. Teresa crying. Steve in the car because
of his depression. Ok, I laughed. And this it the day to "celebrate our freedom."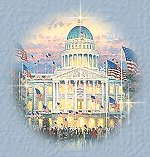 Fortunately on the way down to the field, Teresa reconnected with a little girl
of six years old whom she'd been playing with earlier. And she was with her
father. As Teresa began her "explanation" about mom, he began to relieve my
arms of some of the paraphernalia I was only half able to carry. As four friends
we seated ourselves together to watch the fireworks display. Through
conversation with the father of Teresa's "new friend" I learned that they lived
around the cities area several hours away and were visiting his parents who
live in this area for the holiday weekend.
After the display was over, he began again to gather all this "stuff" for me, and proceeded to our car with us. But on the way, he stopped at the shelter. He
invitied Teresa and I to join he and his daughter in a private corner of the shelter
for a moment. He assured me that it would take but a second........but that he
and his little daughter had something they wanted to say to us.
And together, they said it.



"We want you to know that God will always take care of you, and God will
always take care of your mother."
It brought tears of joy within my heart as I again "heard" the sweet voice of
the child and the kind voice of the father giving Teresa and me this all important message on the way home. And I reflected upon its meaning in light of the
day.




True freedom does not evolve around a body free of illness, disability or
imperfection. Nor does it happen because of an "average" mind........or even
from the phyiscal safety from a terrorist who has decided to attack us.
True freedom lies within the knowledge that as "one nation under God," we
shall always be taken care of by HIM........
His blessings for your safety, care, and wonderful times as you celebrate
ALL that we have been given especially this year.........and remeber your
TRUE FREEDOM...
Love to all Dianne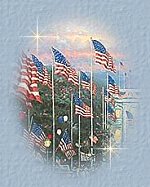 Used with author permission (C)
Author ~ Dianne ~





Music: "Give Me Peace In These Days"